The epidemic situation arousing national attention cannot stop the internationalized pace of intelligence in China. On the evening of February 4, according to the information on awards published by Germany, seven products of ARROW won iF International Design Award 2020.
Established in 1953, German iF Design Award has been famed as the "Oscar in Product Design", and it is an international design competition among international giants. Winning iF awards does not only indicate that outstanding design and quality of products has been accepted nationwide, but also it means that such products have been recognized to the greatest extent in design and business.
ARROW states that the prize-awarding is the affirmation of ARROW brand orientation as "Global Master of Smart Home". Established in 1994, ARROW is a manufacturer of top quality bathrooms, ceramics and their supporting products.
The advantages and disadvantages of industrial product design are directly related to the future development of an enterprise as well as the embodiment of international competence. Germany iF International Design Award is regularly held each year by Industrial Forum Design, an industrial design organization in Germany with the longest history. It becomes well-known to the world with its "unique, rigorous and reliable"prize evaluation philosophy to improve the public cognition of design.
According to the information, it is the second time for ARROW to win Germany iF Design Award followed by Germany Red Dot Award and Germany iF Award in 2019. The difference is that ARROW has won seven awards in succession.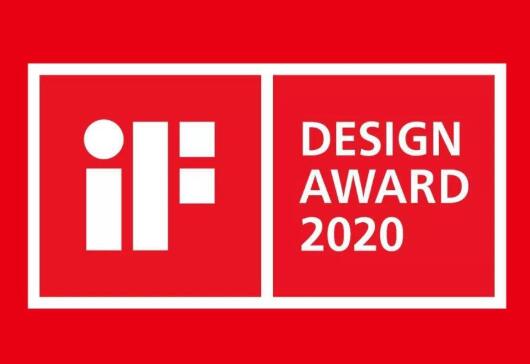 The Company combines culture, demands, technology and other aspects by improving industrial design, and in turn, improves product competence. ARROW has a better understanding of it.
Over the past year, ARROW and Tencent Home jointly sponsored nationwide speaking tour activity for 2019 ARROW new lifestyle with the subject as "Design Intelligence and Better Life"and jointly explored the travel to design with hundreds of design elites in Tianjin, Chengdu, Qingdao and other cities. For the activity, top designers from China and cross-border artists visited the site to appreciate the design ceremony. While new products and new designs are demonstrated, it allows art and design to be better combined into life of modern people.
At Guangzhou Design Week that just ended before the end of last year, ARROW competed with nearly 1000 brand dealers and organizations from more than 20 countries, and with "ARROW -- a Better Life" as the exploration subject, it advocates the philosophy "Perfection in Design just like a Better Life in ARROW" to promote industrial upgrading with "intelligent power".
Design makes a better quality life. ARROW constantly increases its launch of resources in product design so that every single product will have good looks, quality and manners. It carries out corporate mission to improves people's life quality of bathrooms, and innovate people's intelligent life space.
Continuous investment results in great rewards. ARROW has won design awards for many times in the consecutive years, including China's innovative design awards like Red Star Design Award and Kapok Design Award, Award for Toilets, Golden Faucets and Golden Showers granted by China Building Decoration Association, and won Germany Red Dot Award and Germany iF Award in 2019.
Good product design is the combination of culture, demands, technology and other elements. Not only is it required to consider product function demands, but also emotional languages of products so that consumers can find psychological resonance from products and generate emotional pleasure.
Such have been fully deduced by works of seven iF international design award of ARROW.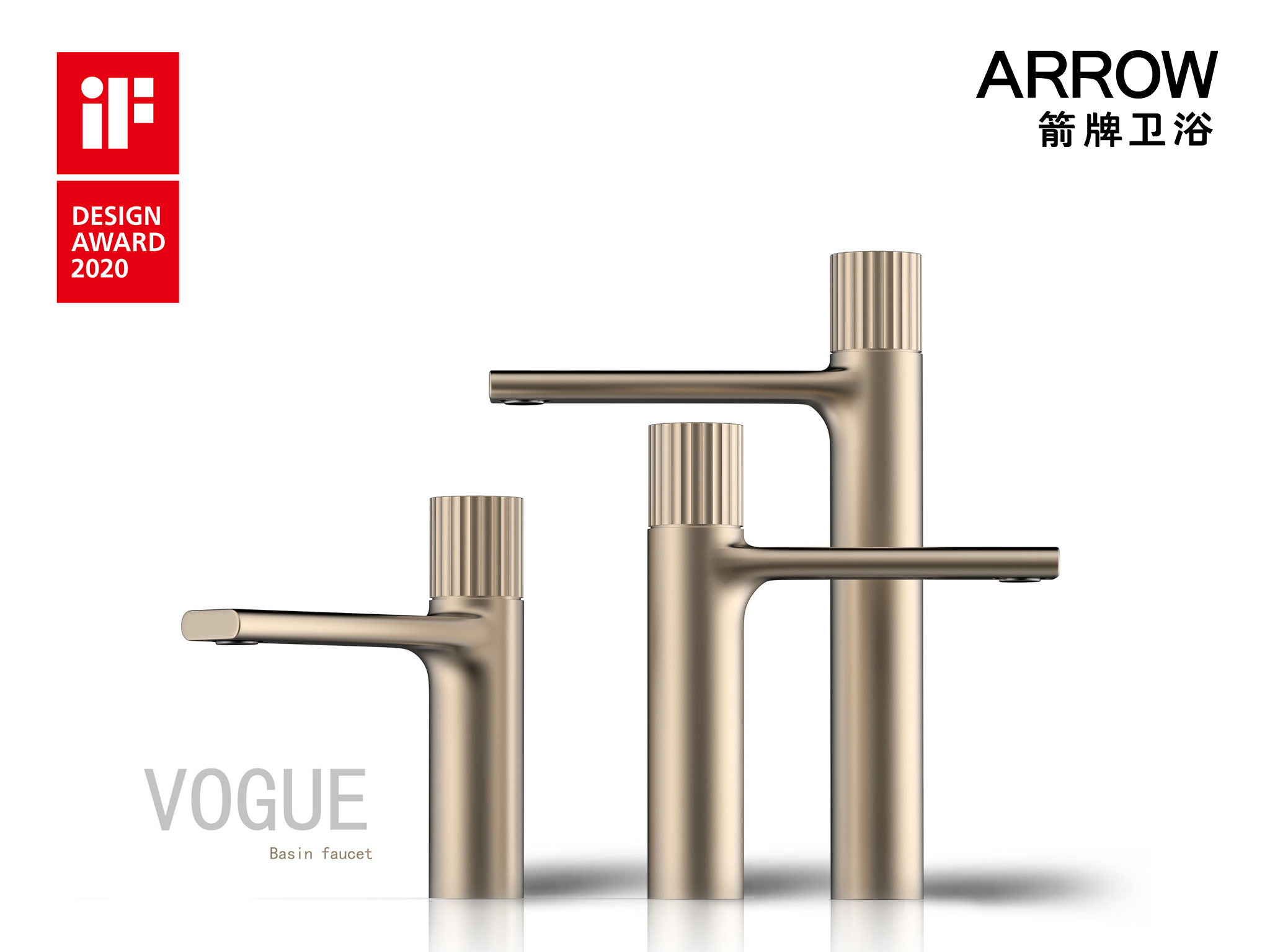 VOGUE series of single-handle and single-hole basin faucet: AMP11852LJ
1.VOGUE series of single-handle and single-hole basin faucets have prominently embodied humanistic design. Using the one-key start mode, by means of turning on water by a key at the top center and turning the hand wheel left and right for temperature control, it prevents people from repeated temperature control when it is used the next time, so it facilitates the use by children and the old. The press button is inlaid with marble slates, which can be collocated according to bathroom decoration styles. The hand wheel is designed using fine anti-slip texture.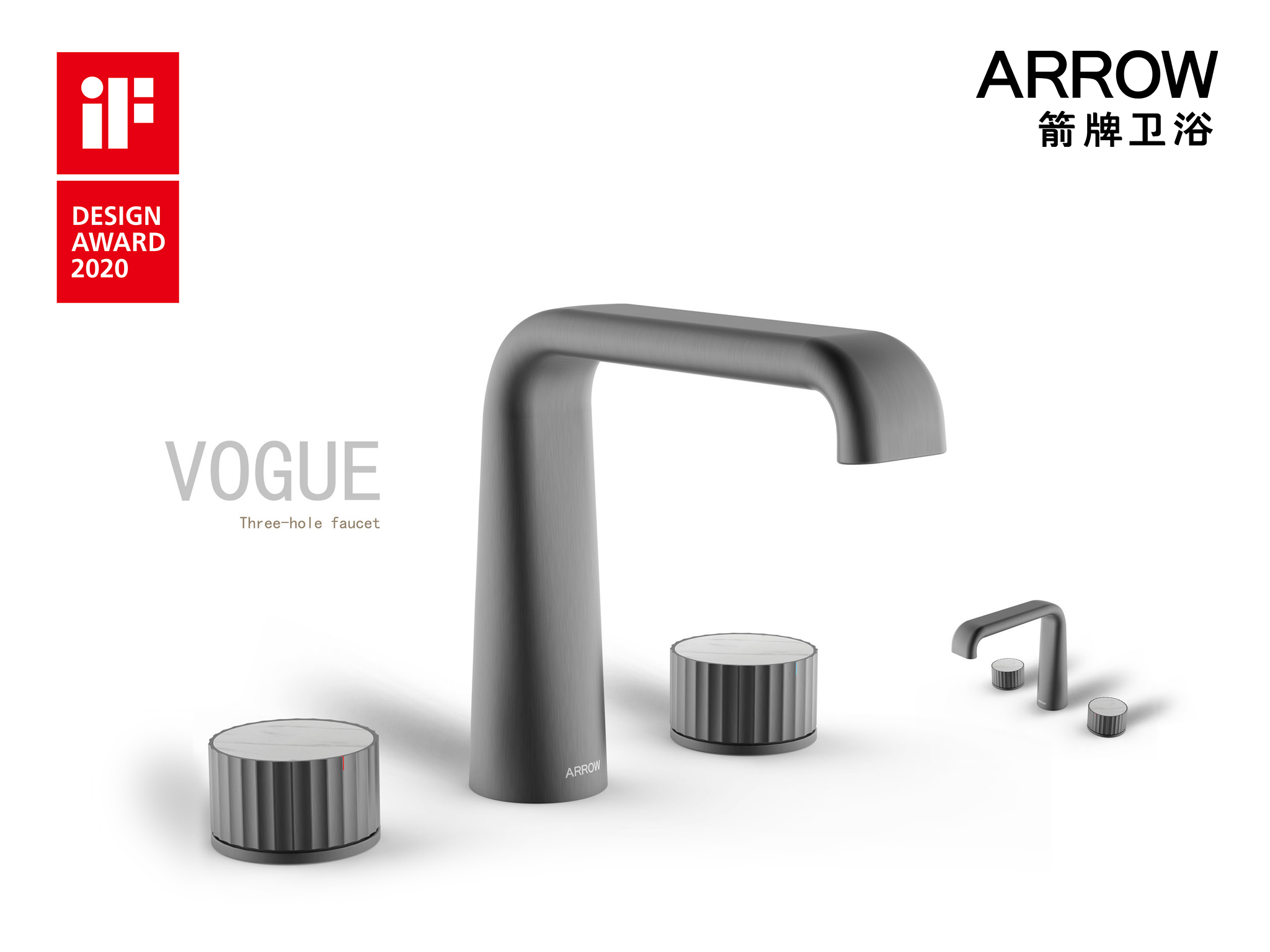 VOGUE series double-handle and three-hole basin faucet: AMP23852LF90
2. For VOGUE series double-hand and three-hole basin faucets, the entire model is simplified. The center of the handle is inlaid with marble slates, which can be matched according to bathroom decoration styles. The hand wheel is designed using fine anti-slip texture. The product's color, finishing panel of the hand wheel and hand wheel texture can be customized and collocated according to fitment styles of bathrooms and supporting bathroom cabinet design.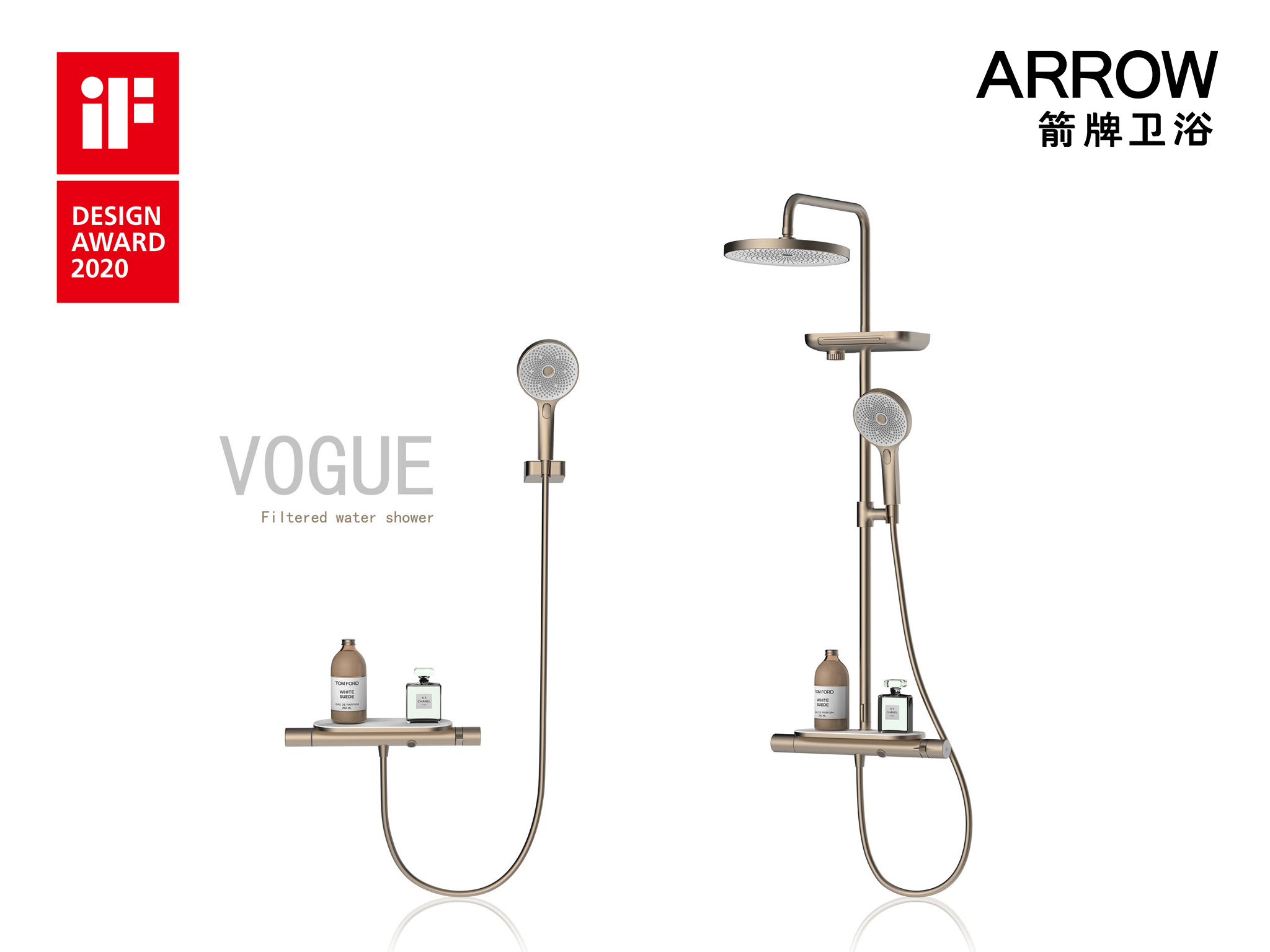 VOGUE series clean water constant temperature big shower with four functions: AMG14SH851LJ
3.VOGUE series clean water constant temperature big shower with four functions focuses more on friendly design for children and women. With clean water filter elements, it removes impurity, mud, sand, residual chlorine, etc off water to protect skin of children and women. On the top, there is an object placement plane inlaid with marble slates, which can be collocated according to bathroom decoration styles to facilitate placement of body wash, glasses and other items.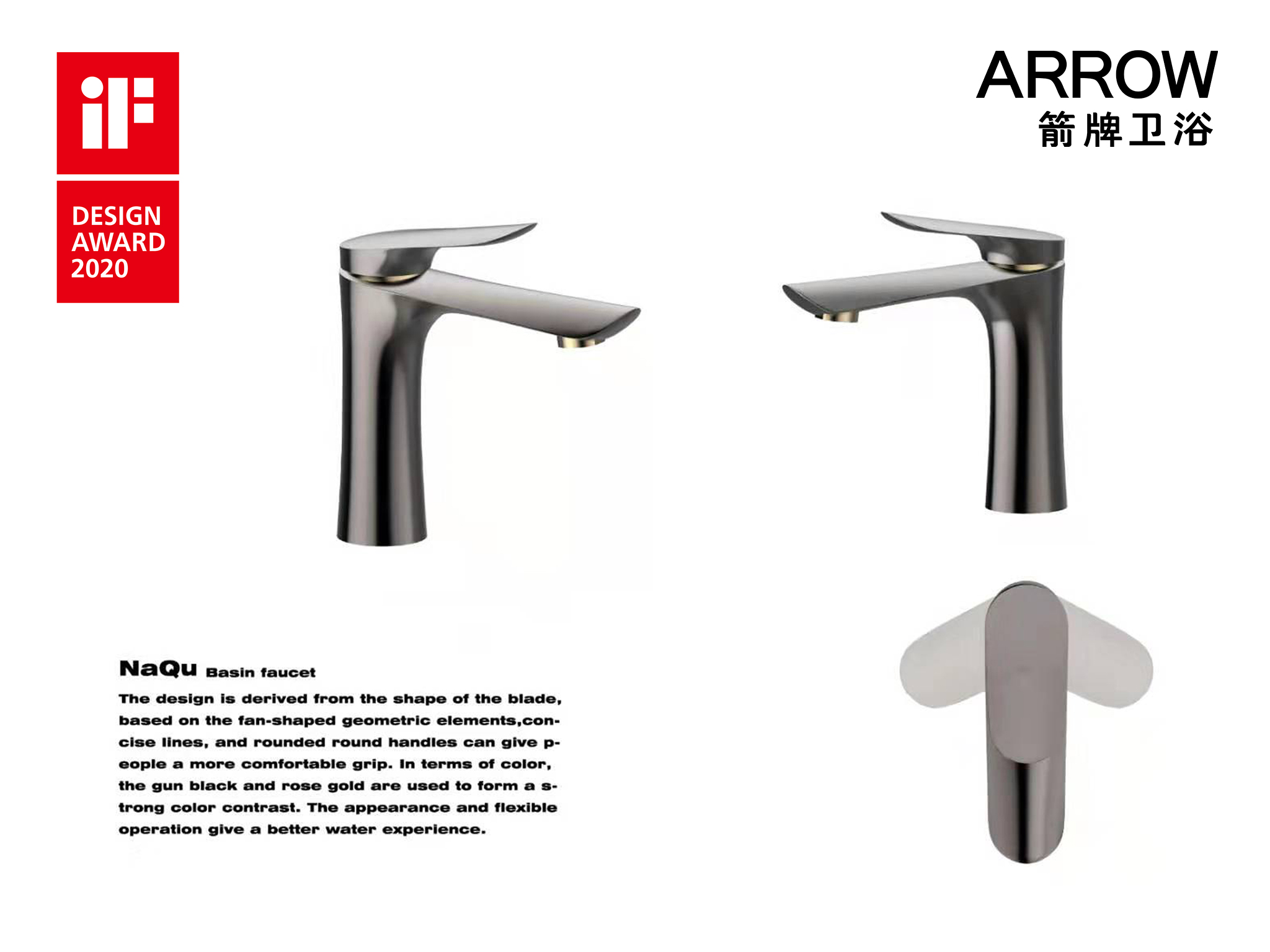 NAQU series basin faucet: AMP11857LF90
4.The design of NAQU series of basin faucets is derived from the shape of blades based on the fan-shaped geometric elements, concise lines and rounded round handles can give people a more comfortable grip. In terms of form, the gun black and rose-gold are used to form a strong contrast. The appearance and flexible operation give a better water experience.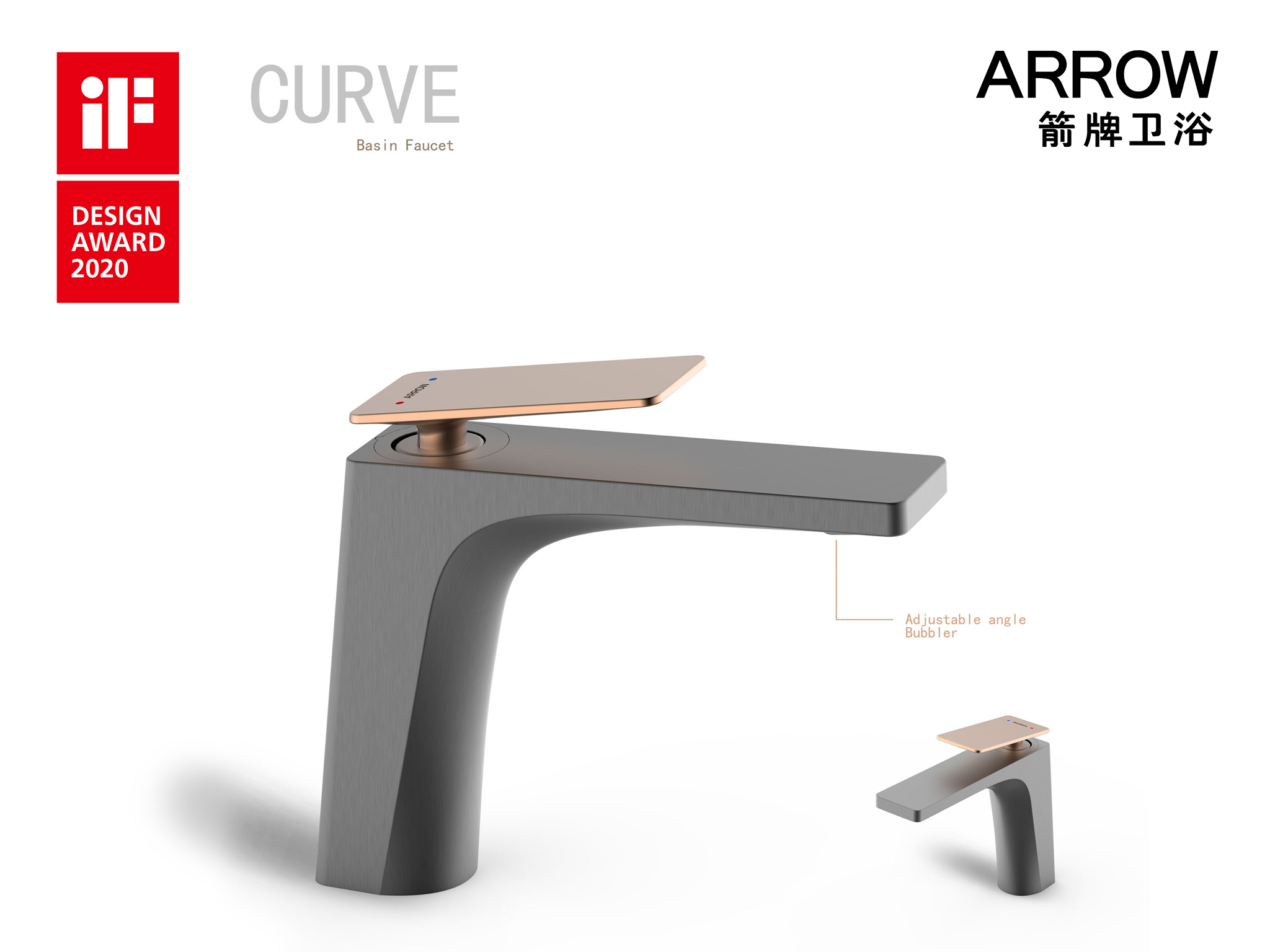 CURVE series basin faucet:AMP11856LF90
5.CURVE series basin faucets are designed using ultra-thin handles collocated with ultra-thin bubble formers at adjustable angles. And easy and smooth lines outline modern aesthetic bearing; with collocated design of fashion gun gray and rose gold, the products are of more modern aesthetics.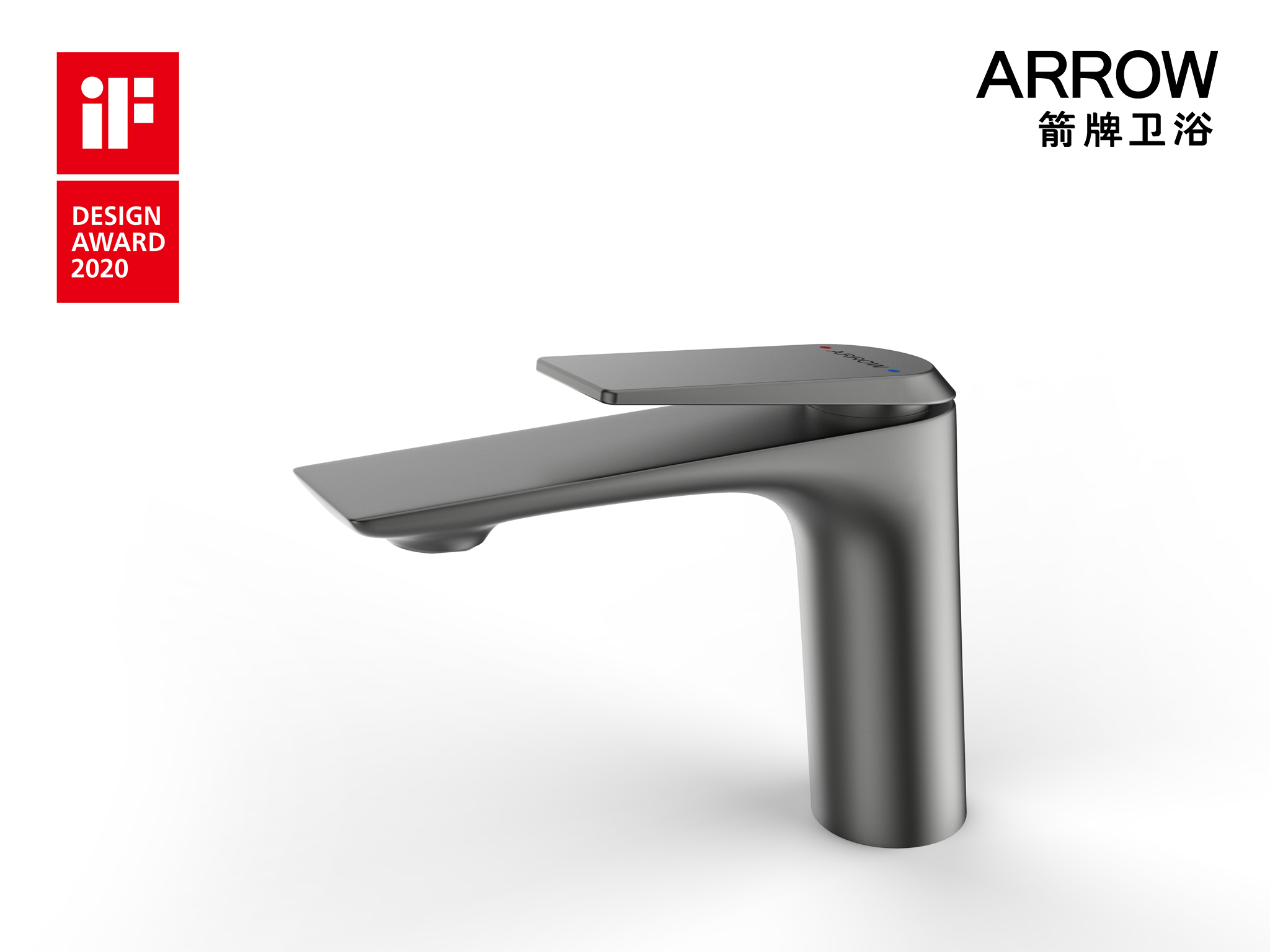 Aite series basin faucet:AMP1145LF90
6.The simplified design and fashionable gray color combination of Aite series basin faucets enable the products to be of more aesthetics. The exceptionally simple lines and exquisite detail processing are the embodiment of clear and natural modern styles; and the design of ultra-thin handles and reasonable water outlets offer comfortable users' experience.
Abner basin faucets
7.Abner is matte black that is elegant and unique, and is different from common faucets, so it demonstrates an elegant temperament and top quality; Abner is additionally provided with practical mouthwash function, which is switched over by means of front end keys to reduce bacterial contact. The humanized CD texture on key surfaces does not only provide exquisite visual experience, but also it offers the anti-slip effect. There are exquisite knurled textures at handles with frosted quality, and no trace is left when wiped, which demonstrates the outstanding process and quality of Abner faucets.
According to analyses by design experts, with an increase in labor costs and resource costs, the manufacturing advantages in China's industry is now being weakened, while industrial design is becoming one of the key performance indicators in international competition. All brand products of international competence are top design works without exception, and of very high added values of products.
It is learned that ARROW has become a senior sponsor of China Pavilion at Expo 2020 Dubai and the designated ceramic sanitary ware supplier for China Pavilion at Expo Dubai 2020. It is the second time when ARROW entered the Expo. In 2015, ARROW entered Milan Expo as the designated bathroom brand supplier for China Pavilion at Expo Milan, Italy.
However, the constant progress and improvement of the industrial design competence of ARROW will certainly assist ARROW to demonstrate China's bathroom quality worldwide and to achieve the corporate vision to become the world's top smart home brand.