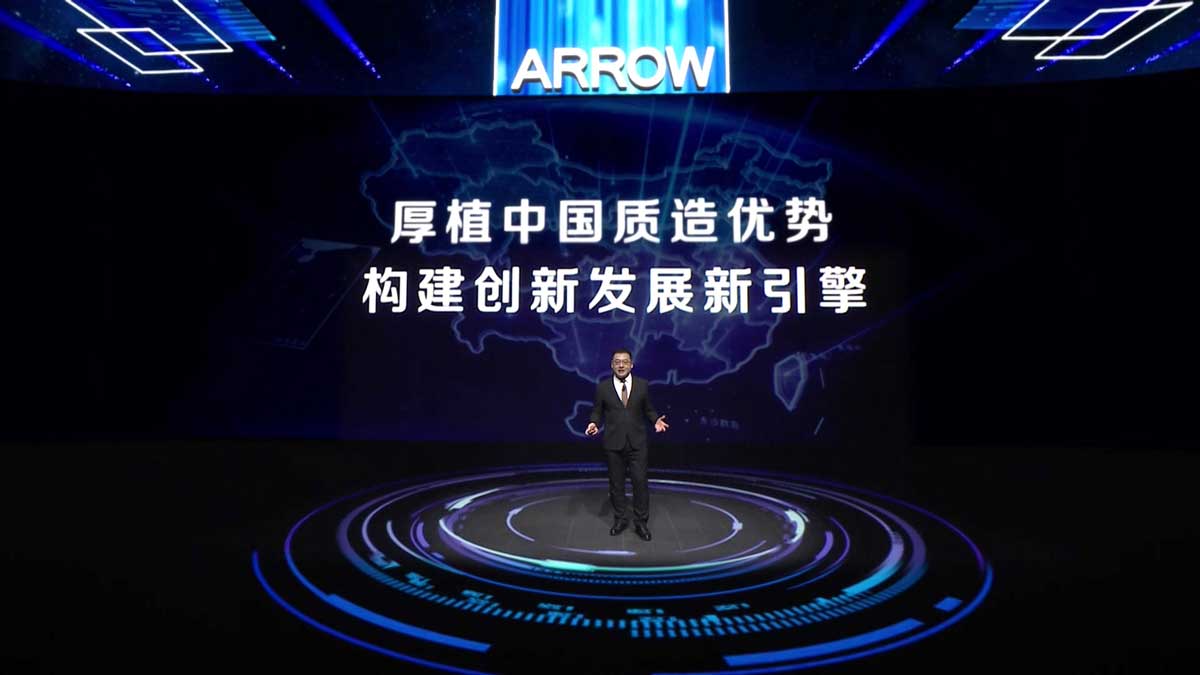 Chinese sanitary products and smart home services provider Arrow Home Group Ltd aims to establish a system of dealers and franchised stores covering 180 countries and regions across the world over the next decade as it steps up push to expand overseas presence.
The company's ambitions were revealed during an online "new product launch for 2021 World Expo Dubai" earlier this month. The company said it was the first time a new product launch in the Chinese home furnishing industry was held in such an innovative form, with the application of XR technology, an umbrella category that covers various forms of computer-altered reality, including augmented reality, virtual reality and mixed reality.
Lu Jinhui, deputy general manager of Arrow Home Group, said the company's products and regions are now available in more than 68 countries and regions, including Australia, Indonesia and Senegal.
"Over the next 10 years, Arrow will ramp up resources to explore countries and regions involved in the Belt and Road Initiative," Lu said.
According to him, Arrow sees the Middle East region as an important gateway to expand its international presence. The company has become a "designated ceramic sanitary ware supplier for the China Pavilion at EXPO 2020 Dubai UAE", which came after 27 years of development in product innovation and brand image.
Lu said Arrow entered the Middle East region in 2003, and its products are now being used at a string of local landmark sites. To better tap into opportunities from the region, Arrow unveiled products tailor-made for local consumers.
Taking its products for the United Arab Emirates as an example, Lu said the UAE has long been one of the countries with the highest water consumption per person in the world, and each drop of wasted water may bring environmental threats to this generation and beyond.
To help solve this problem, Arrow has developed toilets with high water efficiency, which has a unique sewer design and a flushing structure to reduce water resistance and water consumption, Lu added.
According to him, the company has made big efforts to promote the green development of its products to help reduce their carbon footprint.
"Arrow's core advantages in the overseas markets include our excellent manufacturing capacities in China, our extensive categories of all household products, our mature overseas marketing system as well as our years of brand influence in foreign countries and regions," Lu said.
Analysts said Chinese sanitary products makers have made big progress in both product development and design in recent years. The Chinese sanitary product market is no longer dominated by foreign brands, and more Chinese sanitary companies are going global.
With rapid technological advancements, the sanitary sector is also increasingly reshaped by cutting-edge digital technologies such as artificial intelligence and internet of things.
In the next 10 years, Chinese household products will enter a new era of smart home economy and need to embrace digital and intelligent transformation, so as to better meet people's demands for a high-quality life, Lu said.
Eager to pounce on such a trend, Arrow has established an intelligent product research institute, and integrated the R&D of big data health management, antibacterial materials, AI, and IoT into its products, the senior executive added.
"We also established partnership with companies such as Haier Group and Huawei Technologies Co to offer smart home services. For instance, with Huawei's HiLink services, consumers can use their smartphones to control our toilets, adjust the temperature of the toilet seat and choose the flushing models," Lu said.
According to him, as Chinese companies explore overseas markets, more efforts are needed to strengthen R&D capabilities, better understand local consumers' demands and to build brands that can resonate with consumers in different countries.
"We are striving to become a first-class smart home products and services provider in the world, with constant investment into R&D and building our international competitiveness and influence," Lu added.